About
"Rare and exclusive"
"Takacs and Cseke plunge their cameras into the heart of the action, asking questions that are normally suppressed"
"The Hungarian filmmakers Eszter Cseke and András S. Takács are very sensitive and at the same time relentless..."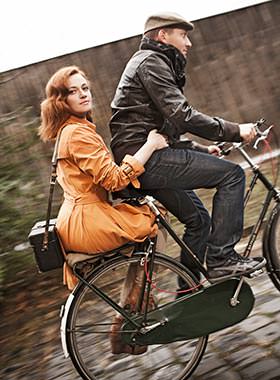 Spot Productions was founded in 2009 by Eszter Cseke and Andras S. Takacs in their native Hungary. The company's mission is to tell human stories behind the news focusing on current affairs, environmental issues and history. Spot has filmed across five continents, from hidden tribes to world leaders, its documentary series 'On the Spot' has won prestigious awards.
In the past 10 years Spot has produced over 70 hour-long documentaries for international public and cable channels (owned by Liberty Global, AMC, Autentic, ZDF etc.) while gained experience in international co-production and delivered high-quality content for major players like Deutsche Welle, ARTE, SundanceTV or Al Jazeera America.
The directors of our company, Eszter Cseke and Andras S. Takacs are award-winning documentary filmmakers with international experience in the field from the revolution in Egypt to the French Foreign Legion in Central-America. Their motto is from Robert Capa: "If your pictures aren't good enough, you're not close enough." Eszter Cseke and Andras S. Takacs have filmed with artists like Wim Wenders or Salman Rushdie, politicians like Aung San Suu Kyi or Ban Ki Moon, and religious leaders like the Dalai Lama and Pope Francis.
Their documentary series 'On the Spot' aired human interest stories on public tv, Spektrum TV and SundanceTV. Their exclusive history programming includes German-Hungarian co-production 'Children of Dictators', and their following series which captured the heavy heritage of childhood trauma from Transylvania to North Korea. On the Spot's most personal season explored giving birth in different cultures. 'Around the World in 9 Months' was produced in 10 countries from Bali to Mexico, which gave the creators a rarely wide spectrum on the topic of birth while they were expecting their own baby who was born at the end of the last episode. Episodes of On the Spot appeared in the official selection of festivals like the Krakow International Film Festival, the American Documentary Film Festival, INPUT or the Sarajevo International Film Festival. Spot's approach has been called "rare and exclusive" by the BBC while the Financial Times wrote 'On The Spot' is "up-close and visceral", adding that "Takacs and Cseke plunge their cameras into the heart of the action, asking questions that are normally suppressed".
Some of the awards Spot Productions received in recent years:
Press Freedom Award in Strasburg from the Council of Europe
Gold Plaque at the 50th Chicago International Film Festival TV Awards
Golden Nymph for Best Documentary at the Monte Carlo TV Festival
Hungarian Pulitzer Memorial Award
Philosophy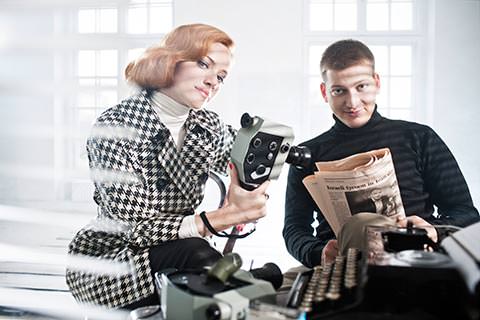 photo credit: Zoltan Sarosi
"You could say I lost my faith in the people on TV", Sting sang his song a little bit after we were born. Quarter of a century later we felt the very same. We were fed up with all the lies we watched on TV from manipulated news stories to false shooting noise added by war correspondents. We wanted to learn pure, true and honest storytelling. This is how we fell in love with the genre of documentary. 
We tried to learn everything we could at the Hungarian Film Academy, at the Documentary Workshop of ARTE, at the New York Film Academy, at the Digital Journalism Course of NBC News, during an internship at CNN and work experience with the BBC. But at the end of the day we wanted to be free.
We wanted to be on the field, telling our stories without boundaries or borders, digging deeper, spending more time with the people and more time in the editing room too. But we were still in university...
We put together all our savings and left for Gaza with a small camera, just the two of us. The most amazing period of our lives began. We couldn't even sleep at night. We got to know people we were afraid of, we talked to Al-Qasam fighters, we went out to the sea with fishermen at dawn, got down to the smuggling tunnels under the border, made friends, got sick and filmed and filmed and filmed everything we saw and experienced. We had no crew, we had pure reality.
A few months later a 45-minute-long documentary was ready, the first of our own. We sent it to all major Hungarian channels. Most of them turned it down, saying it was not commercial enough, it could go air only after 1AM, people didn't want to see documentaries primetime, especially not with subtitles, especially not about the Middle East. A small international cable channel called Spektrum TV has been looking for its first original production for years. They loved the idea of not having a crew but capturing reality with two small cameras so they commissioned the first season of On The Spot.
We were all around the place. Afghanistan, Ethiopia, Bolivia - we really thought it was just a dream. Two months after the commission we were interviewing the Secretary General of the UN on the Arctic Circle. 6 months after signing the contract we were interviewed live on the BBC about our undercover report from Burma. Meanwhile we made friends and made films from ghettos of Johannesburg to hiding human rights activists in Kabul, from underground bloggers of Tehran to the last hidden tribes of Papua.
This is how we started. And this is how we learnt that documentary's strong because reality's stronger than anything. We just need to stick with it — wherever, whenever.
Eszter Cseke & Andras S. Takacs